I am involved in a variety of research projects, programmes and consortia, funded by from many different sources. The following are some that keep me occupied. The most recent and active are at the top, with older ones, which I continue to engage with, below.
---
The STEPS (Social, Technological and Environmental Pathways to Sustainability) Centre's work linked environmental sustainability and technology with poverty reduction and social justice. The Centre was a global research and policy engagement centre, funded by the UK's ESRC, bringing together development studies with science and technology studies. Founded in 2006, the Centre closed at the end of 2021. In the final years, the Centre consolidated and shared its research around four themes: transformations (2018), uncertainty (2019), natures (2020) and methods (2021). Our 'stories of change' offer an overview of our journey over 15 years across a range of themes. Many of these themes are explored in our free online course, Pathways to Sustainability.
PASTRES is supported by an ERC (European Research Council) Advanced Grant and is working in China, Italy and Kenya. The project aims to learn from the ways that pastoralists respond to uncertainty, applying such 'lessons from the margins' to global challenges. It is hosted at IDS and works in collaboration with the European University Institute. PASTRES has a regular blog, covering a range of issues. In 2021, PASTRES produced a major report exploring the links between livestock, climate change and food. An online photo exhibition shares many images from across our sites, including from photovoice exercises. Our online course is available for free: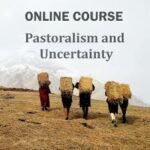 This strand of work builds on long-running research on zoonoses and 'One Health' approaches under the STEPS Centre. This work has become especially important during the COVID-19 pandemic (see resource collection here). Perspectives on 'One Health' were developed during the Dynamic Drivers of Disease in Africa Consortium (DDDAC), which was a interdisciplinary research initiative linking 15 institutions in Europe, Africa and the US to explore ecological, epidemiological, social and economic interactions affecting zoonotic disease emergence, transmission and impacts in Africa. A special issue of the Philosophical Transactions of the Royal Society (Biology) was published summarising the outputs. Recent work on COVID-19 has explored pandemic preparedness and the challenges for development (see publications)
Building on my work on rural livelihoods, land and agriculture in Zimbabwe since the mid-1980s, work since 2000 has documented the impacts of land reform in Zimbabwe, highlighting both challenges and opportunities. A major book, Zimbabwe's Land Reform: Myths and Realities, was published in 2010, with two follow up books and many journal articles. 20 of the journal articles are being compiled in a book. The Zimbabweland blog has now been running for ten years with over 400 posts on a range of themes, mostly based on our on-going fieldwork in a number of sites across the country. From 2020, the blog has been providing regular updates on the COVID-19 situation in Zimbabwe.  Another website dedicated to the work, including commentary, the blog, videos and media coverage can be found at: www.zimbabweland.net.
The ERPI is a global collaboration focusing on the rural causes and consequences of authoritarian populism. The initiative has funded a small grants programme, hosted a major conference, convened a blog/video series with openDemocracy and has publishing a series of papers in a special Forum of the Journal of Peasant Studies (now published as an open access book). The ERPI is now being facilitated by regional groups in Africa, Europe, Latin America, North America and south-east Asia, with new special issues and events emerging (see links here).
The Future Agricultures Consortium was founded in 2005 and was a multidisciplinary and independent learning alliance of academic researchers and practitioners involved in African agriculture, supported by the UK Government through the then Department for International Development. It involved many thematic areas including land, pastoralism, China and Brazil in Africa, and many others. Recent work has focused on the dynamics of commercialisation of farming under the FCDO supported APRA project.
In the period following the major period or land grabbing globally from 2008, the Land Deal Politics Initiative (LDPI) facilitated engaged research on the global land rush. The LDPI aimed to provide in-depth and systematic enquiry into the global land grab in order to have deeper, meaningful and productive debates around causes and implications. In addition to supporting early career researchers documenting land grabs, the LDPI hosted several major conferences (Sussex, 2011; Cornell, 2012) and published a range of special issues and books (see books/publications).
Veterinary science and policy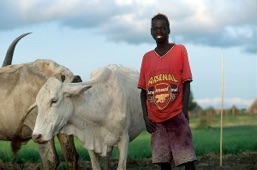 Livestock production is accelerating across the world, creating what has been dubbed a global 'livestock revolution'. But this brings with it risks of disease. And some livestock disease can transfer to humans, with unknown consequences (see work on zoonoses above). Work on foot-and-mouth disease in southern Africa and avian influenza in south-east Asia has looked at the policy processes surrounding disease control and management. Issues of risk and uncertainty, trade and livelihoods are explored through a range of case studies.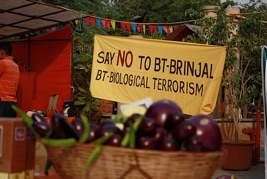 Genetically-modified (GM) crops are sometimes trumpeted as the solution to the global food crisis, and the route to transforming developing agriculture and reducing poverty for millions. For others they spell doom and disaster, bringing with them unacceptable environmental and safety risks. But what is the reality? Over the past ten years, GM crops – particularly transgenic insect-resistant crop varieties – have been used widely by farmers in different parts of the developing world. What has been the impact on agricultural production and poverty? What institutional, regulatory and wider policy issues arise? The STEPS Centre's biotechnology archive explores these issues by drawing many years of research from Africa, Asia, Latin America and Europe.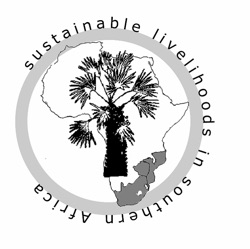 The sustainable livelihoods approach requires new ways of thinking about institutional and organisational arrangements for development, as well as understanding how poor people can gain access to natural resources and influence policy processes so that their concerns are realised. Through case studies in Zambezia (Mozambique), the Eastern Cape Wild Coast (South Africa) and the lowveld area of south-east Zimbabwe, this Sustainable Livelihoods in Southern Africa programme examined the challenges of institutional, organisational and policy reform around land, water and wild resources in southern Africa.
---